SeekingArrangement is a dating platform for adventurers. We can guarantee all of you would be familiar with those particular types of relationships where one or the other partner is entirely in love with the money and power of the other one. Capital stands as the substantial grounds of such relations. We are not saying that there is no love in such relationships; we just feel that there is more financial love than the actual romance.
SeekingArrangement is also based on the same facts. The platform believes in developing mutually beneficial relationships where both the partners can give and take something and live together as lovely couples. It has two types of members:
Sugar daddy or sugar mommy
Sugar babies
Both the members have different roles on this platform, and the primary aim is to develop a relationship where all can have someone matching their expectations. The platform is very much evident in its goals. The sugar daddy or the sugar momma Sites is a financially settled and stable person trying to find companionship or love. While sugar babies are males or females, who are ambitious, want to reach high peaks and are in search of someone who can provide support to them financially and emotionally. If you have anything in common with any of the two types of members, you can hop on the platform. But stay away if you are looking for something serious.

Reputation and history of SeekingArrangement
Brandon Wade in 2006 decided to change the whole theory of dating and relationship by creating a special kind of online dating service that mixed the business with pleasure and named it SeekingArrangement. Later on, the URL of the platform was changed to seeking.com. However, other features such as the name, logo, and layout of the platform retain its originality.
Talking about the fame and popularity of this platform, you must know that it's not a very reputed platform. Although the user base of this service is quite strong, it has always been associated with words like escort services and prostitution. Moreover, not everybody accepts the idea of exchange of monetary benefits and companionship in a relationship.
Website and App Interface, Registration
The features of the website version and the mobile app are almost the same. The mobile app allows you to use the location services to find a match closer to your vicinity. The platform is very well designed with all the features easy to navigate and access. It provides fonts and features in bold and large icons, understanding that it is quite famous among the people in their 50s and 60s.
Registration on the website is a simple step in which you have to mention your necessary details and your financial status. However, since the site is all about monetary benefits, a long and thorough income verification step may trouble you.

Sign up Process: Is it easy here?
You can quickly sign up on SeekingArrangement by filling up some necessary details, including:
Username
Gender
Account type, whether you want to sign in as sugar daddy/sugar mommy or sugar baby
Your interest, whether male, female or both
Your email address
If you are a sugar daddy/ mommy, the amount you can spend on your sugar baby
If you are a sugar baby, what amount of money do you expect your match to spend on you?
Your income status and annual income if you are signing as sugar daddy/ mommy
For sugar babies, they need to tell where they want to spend money, for example, on lavish dinners or college fees.
Once you fill out all the details, you can add up your profile picture for grabbing better attention. The administrator will verify all the details and photos before allowing it's visibility on your profile.
For college girls, who sign up with their university email addresses, they can always get a free premium membership for the SeekingArrangement. Signing up via other social media networks or linking your profile to Facebook, Twitter, or links makes you a legit user and helps access all the platform features. The site also runs a background check by a third party to ensure a secure dating environment. Passing via such background checks is a must for getting legitimacy on the platform.

Are the Accounts real here?
The site is a center of attraction for many spammers and prostitutes. Still, many people get divorced to enjoy the sugar world. Moreover, the platform's background check facility often removes the fake profiles and maintains the community's integrity.
Website and Mobile Version
The Mobile version of the SeekingArrangement is as useful and convenient as the website version. The app is not available on the apple app store due to some controversies. However, you can enjoy the app by downloading it from the google play store. The app is available free of cost. Both the versions are kept organized and straightforward, considering that the platform often grabs the attention of some middle-aged people who are not so tech-savvy and want the things on simple terms.
The only thing better about the mobile app is that it enables the location feature, which allows you to find people in the same city or CountryCountry.

Special Features
SeekingArrangement has some exciting features which add to the platform's romantic vibes while maintaining the decency and security of the sugar babies and sugar daddy/mommy:
Sugar blog: this feature lays a solid base for the website. Many people are confused about whether to join the platform or not. They are often concerned about the security of their profile, especially the profile pictures. SeekingArrangement has created a sugar blog to resolve all such doubts, explaining the working and experience of sugar dating. These blogs are full of tips on securing a dating environment and finding a perfect match for you.
SeekingArrangement often arranges many events related to sugar dating. All such activities are updated on these sugar blogs so that its members can enjoy these beautiful moments.
Diamond membership: this feature is only available for sugar daddies or sugar mommas. It's a membership plan which is much higher than the premium membership and is given to only those who meet the following two criteria-
Only those members who had the premium membership for at least two months are eligible.

Partner Search
The primary aim of SeekingArrangement is to give people the freedom to have a relationship that is based on their terms. Every member can specify the type of person they want to match with, the characters or features they are looking for in their partner, and the kind of relationship they are seeking. The SeekingArrangement sorts out the various profiles and shows them as search results based on these interests and expectations. You can always like and message the profiles which seem suitable to you and start your new relationship.
How does SeekingArrangement Work?
Many of the traditional relationships break just because people didn't share their expectations in the early stages, which compromises the understanding and balance between the partners. Keeping this in mind, SeekingArrangement has created this platform where people can state their expectations and interests straightforward. Then if the other person is capable enough to meet those requirements, they go ahead and have a balanced relationship. The platform provides mutual benefits to both the partners where sugar daddy/ mommy gets the companionship and sugar baby receives the mentoring and financial help.

Searching options and filters at SeekingArrangement
With the most extensive search function, the platform allows every member to put up multiple filter preferences so that you can have lots of options and can quickly get someone you perfectly match. Listing out some of the ubiquitous filter options available at SeekingArrangement:
Location or distance- you can search via city, region, CountryCountry, postal code, or put up distance within 250 miles.
Preferable Age
Height
Hair color
Smoking habits
Drinking habits
Educational background
Number of children, if any
Spoken language
The platform offers some additional search filters for premium members, such as:
Net worth
Body type
Relationship status
Ethnicity
Membership status
Communication Methods
Messaging services provided by SeekingArrangement is the best method for communication on this platform. The messaging services are entirely free for women. However, men can only send ten messages without membership. To submit more than ten messages and read the received messages, one needs to pay for a premium subscription at seeking management.
SeekingArrangement Alternatives
MillionaireMatch
Wealthy Men
Sugardaddie

Membership Price and Payment Methods
Although the sign-up is completely free on SeekingArrangement, most of the platform features are locked for free members. So one needs to have a premium membership to enjoy all the rides over there. They offer membership for one month, three months, and six months. All types of master and visa credit cards and PayPal accounts can be used for buying such memberships. All the payments will be discreetly made to maintain your privacy. The prices for memberships are mentioned in the next sections.
Free membership features
Registration: profile creation and sign-in on the SeekingArrangement is entirely free for all.
Browsing profiles: you can browse multiple profiles and find out your suitable match. They provide this feature for free to lure the users into buying a premium membership.
Messaging services: females have the advantage of chatting for free. However, men can only send ten messages without membership.
Premium Membership features
More privacy: SeekingArrangement understands that some people like to be anonymous. They enhanced their features, allowing the users to show themselves offline and hide their date of joining while browsing anonymously through various profiles.
Notifications: you will be notified when someone reads your messages.
Inbox: you can arrange your inbox and highlight the profiles which seem interesting to you. At the same time, you can also block a profile for not receiving messages from them.
Ad-free: advertisements can be very irritating while trying to do something very positive. With a premium membership, you don't need to see useless ads.
Extra filter preferences: Membership opens doors for advanced search filter options, which will eventually help you to sort out the profiles and find the perfect match.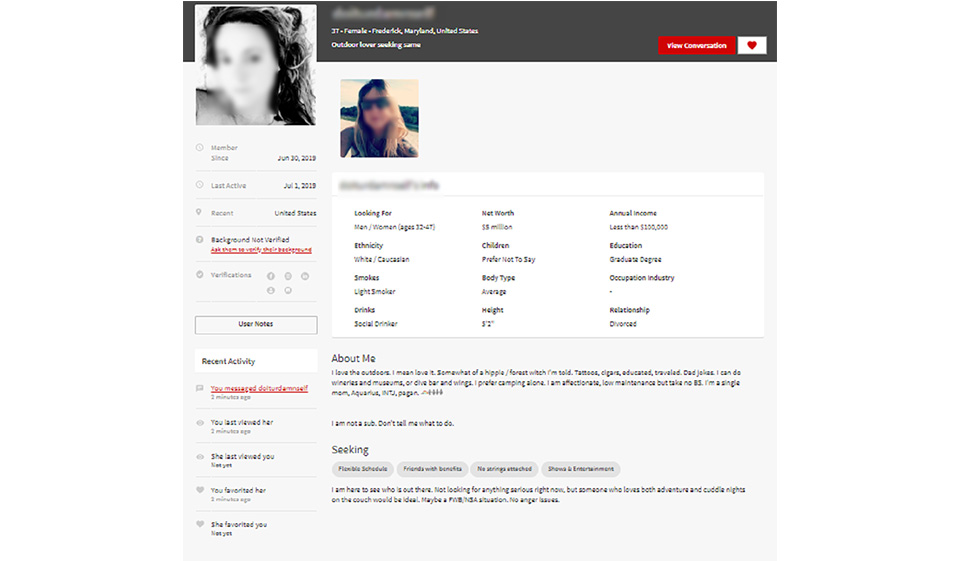 How much is dating on SeekingArrangement
Premium Account
| Duration | Per Month | Total |
| --- | --- | --- |
| 1 Month | 19.95 USD | 19.95 USD |
| 3 Months | 14.95 USD | 44.84 USD |
Is SeekingArrangement safe?
The platform does all kinds of verification of profiles to create a secure dating environment. The background check run by the third party, which is a must for being a verified profile, ensures users' safety. However, one's safety always lies in their own hands. So just be attentive and don't fall for the wrong people.
Technical side of Protection
The privacy policy and the user agreement ensures that every profile is protected. The user agreement allows the SeekingArrangement to restore the details of the users for an indefinite time. To keep communication services safe and secure, all the relevant data is encrypted. The platform does not share the user's data with any third party.
Customer Support
SeekingArrangement, like all other dating websites, has a long list of frequently asked questions in their support section. To find any additional help, you can always visit their help center and click on 'report an issue.'

Popular user questions
How to pass SeekingArrangement Photo Verification?
Once you upload your photo, it will automatically be verified by the administrator within 24-48 hours. If they find any discrepancy in the photo, they will reject it. In that case, you need to submit any government identity card having a picture. The best way to pass thought photo verification is to upload the photo via Facebook, Twitter, or linked in.
How to delete a SeekingArrangement account?
You can always choose to delete your account if you have found the right match for you or do not like the whole dating system. For deleting your account, you need to log in to your profile, Go to a thumbnail at the right corner, click on 'settings,' and then go to 'deactivate or delete account' link. Your profile will no longer be visible in the search section, and all your membership plans will be canceled without any refund.

How to see who likes you on SeekingArrangement without paying?
There is no such option as liking a profile on this platform. However, one can always add users to their favorite list if they find them fascinating. A heart sign at the top of your profile page shows the list of profiles who have favorited you. This feature is entirely free of charge.
How to block someone on SeekingArrangement?
If you are harassed or threatened by any other user, you can always block that profile. For blocking someone, you need to click three dots at their profile, just next to the favorite option, and go to the Block option. The user will be permanently blocked until you unblock them, and will be unable to message you and view your profile.
How to cancel a SeekingArrangement subscription?
You need to log in to your profile and go to payment settings and deactivate your membership. No refund policy for cancellation of subscription exists on SeekingArrangement.

Conclusion
The platform is wholly devoted to making those two people meet who can complement each other by filling up the missing portions of each other's lives. However, if you are trying to find a soulmate for you or someone you can marry someday, you can hop to other dating sites that are more promising for serious relationships. Their understanding of relationships is quite different from the world, but putting up your expectations and goals of a relationship straightforward to your partner brings transparency and honesty into your love life. And as many believe, openness and reliability are two pillars of a successful relationship.
When talking about sugar dating, you cannot find any better platform than SeekingArrangement.