The topic of this article is a Farmers dating site that some of you might have already seen. It is a place where all farmers can find themselves friendship or love. As you could guess already, it's quite a niche thing for those who share similar interests and love farms.
Reputation and history of Farmers dating site

The farmers dating site is quite a new project, but it already has active members willing to chat. These guys also have their apps developed both for Android and iOS, which makes them a Tinder for dating country singles. It is and most likely will stay a niche product since most of the people do not have farms. As mentioned above, they haven't been around very long, so that you won't find much information about Farmers dating sites in media. As for the number of users, the website showed us that there are 309 women near us looking for the second half.
Website, its' interface, app and registration
Sign up Process. Is it easy here?
Sign up process is a piece of cake on the Farmers dating site because all you have to do is give access to your Facebook profile (don't worry – the website won't make any posts on your timeline). Another way will be to use your Apple ID if you are an iPhone user. Both of these methods are extremely helpful because in that case website is getting information from external sources. By logging in with your Facebook account, you won't need to manually enter any data like your name, date of birth, etc. because the website will get all that information from your social media profile.
Are the accounts real here?

Most of them are real, but you know how easy it is to pretend someone you aren't. That's why you should always check profiles and answer yourself one of these questions. Do these people have more than one photo? Maybe their social media profiles empty? Or do they request some kind of personal information? There are other signs that you should pay attention to when talking with a stranger on the Internet. But there is good news: since a Farmers dating site is requiring Facebook-profiles to sign up and Facebook successfully fights against fake accounts, it means there aren't many fake people on Farmers dating site.
Website and mobile version
Farmers dating sites can fulfill the needs of every type of user. Older people will appreciate a simple and intuitive website, while younger farmers will love one of the company's apps for mobile phones (both for Android and iOS). An undeniable advantage of using a mobile app is that this way, you always will be on the go. Another great thing about using apps for dating is that they are more focused on messaging (though some people might prefer to type on their keyboards). Plus, your phone battery won't drain that fast when you are using the desktop version on your PC or laptop.
Special features

The main feature of this website is that the Farmers dating site is a Tinder for country singles. Where else will you find an app that helps to unite the hearts of lonely farmers? Thousands and thousands of farmers worldwide log in daily to Farmers dating sites to find themselves some match. When you join this dating platform, it will become your second home. You always will be welcome here because it's a hot and friendly portal.
Partner Search
If you are Premium, then it becomes a piece of cake to find someone on the Farmers dating site. Many filters include body type, desirable language, type of relationships you seek, etc. After you finish your sign up, the website will ask you to provide some information on your farm, kind of tractors you like, etc.
How does Farmers dating site work?

All you have to do is provide as much information about yourself as you can. One of the best ways to do it is to link your Facebook account to your Farmers dating site profile so the website could fetch all the necessary information from your social media. The main reason to do that is that the app will give you more quality matches this way. The Farmers dating site algorithms analyze information that you give them and basing it on it searches you some games. Another great thing about this service is that it uses GPS, so your matches will be local people who live in the same country as you do.
Searching options and filters at Farmers dating site
You can find your love or special one at Farmers dating site by using some of its' filters and searching tool. Major ones include an area where a person lives and the desired age. The most important thing here is that no matter what options or search filters you will choose, you will most likely find the girl (or guy) that you will see will be obsessed with farming, so you never can go wrong using the Farmers dating site.
Communication methods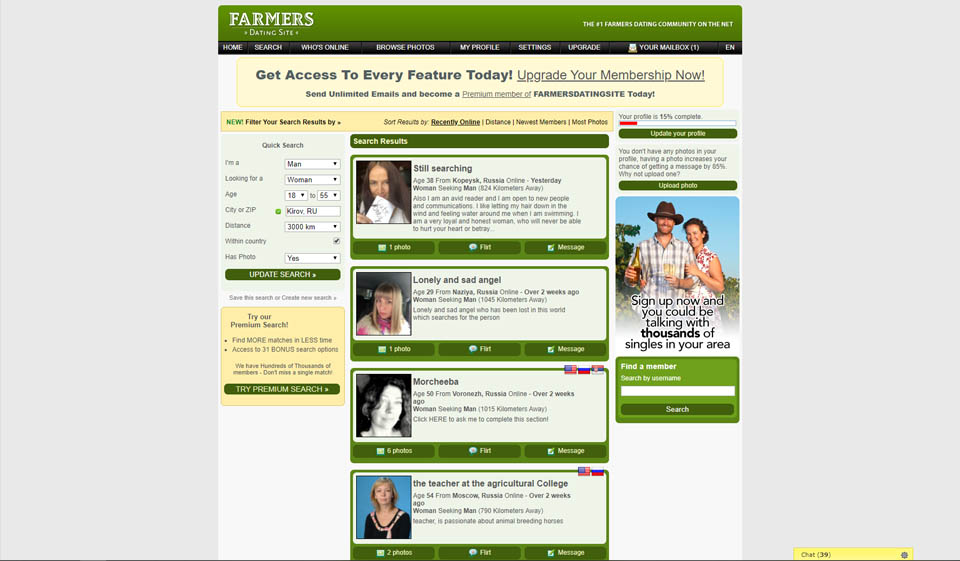 There are different ways of how you can communicate with members of the Farmers dating site. One of them would be to go old school and use your desktop and keyboard to write messages while a more modern approach would be to use your iPhone simply. If you do not owe any iPhone, the Farmers dating site offers you an Android app. It has an instant message feature so you can chat with people at any time. More than that, you can talk to anyone you like. The only downside about it is that you will have to spend some buck before you do it: some of the features of Farmers dating site cost money, which is one of them.
Farmers dating site alternatives
While the Farmers dating site is quite a niche product, it's not one of a kind. Yes, there are some other dating services for farmers. You can easily google them, but the reviewed site in this article has one slight advantage: it supports different mobile devices and is continuously updated. Another thing to note is that the Farmers dating site asks access to a Facebook profile, so there are many fewer fakes than at other websites.
Membership Price and Payment Method

Free cheese is only in a mousetrap: that's why you shouldn't be too upset because of Farmers dating sites have paid features. They aren't that expensive as might look like, and the website offers various payment methods that will be listed below. But first, let's check it is worth it.
Free Membership Features
There aren't many features that you can use if you are a free member who just signed up. All available at this moment features are there to get a picture of what this service is. As a free user, you will be limited by following things: you will be able to create yourself a profile, upload a picture, search users that live near you, and receive messages and likes from them. That's it! In case if you will decide to send a message or use some other excellent features out there, you will have to get yourself a premium membership.
Premium Membership Features

It makes sense to go Premium because, in this case, you will be able to open lots of features that will make the dating process much more comfortable. For example, it will become possible for you to chat and send flirts. What are those? Flirts are for people who are a bit shy – by sending someone a tease, and you show your sympathy towards that person without any direct communication. It's an excellent feature for people who lack a bit of confidence. Another exciting feature is the so-called The Little Black Book. If you add someone to that book and that person approves it, you get extra info about them and some private pictures. Finally, there is a feature called "not interested": it's for people bothered by other people they don't want to talk with (yes, it could be like that). There are annoying people in this world, so no wonder some might even use the Farmers dating site. In this case, you can use our listed above feature.
How much is dating on Farmers dating site?
Some may find Farmers dating sites a bit expensive, but going for trial didn't make anyone broke. There are three options you can choose.
3 Months – you can use the Farmers dating site for three months long, and it will be the cheapest option because it will cost you only 19.98 euros per month. The only downside about this pricing plan is that it requires you to pay for three months right now, not just a month after month. Some people will find it expensive because not everyone is planning to use a dating website for such a long period. Let's be honest: no one would love to be single for months. On the other hand, the Farmers dating site isn't only about dating but also about communication. You can find yourself some new friends and people to chat with even if you already have a cowgirl or cowboy.
1 Month – you can use Farmers dating site features for 30 days, and it will cost you 34.95 euros.
5 Day Trial Period – you can try out how it feels to be Premium on Farmers dating site just for 1 euro per day. But be cautious: after the Trial period will be over, your membership will get extended until one month, and you will get charged the second time.
Don't forget that going Premium allows you to get more advanced search filters and find people according to your preferences. For example, you can look for specific body types, language, relationship type, etc. Another great thing is that you get unlimited messages, invisible mode, round the clock technical support, and access to all users' photos. Farmers dating site is using credit cards so you shouldn't worry about the safety of payments. If you have a VISA or MasterCard, then you are ready to go.
Is Farmers dating site Really Safe?

It's hard to overrate safety, and you can be sure that the Farmers dating site is safe to use. It means that your phone won't get hacked, and PC won't get attacked by any viruses or Trojans. You also can be calm about your credit card info since the website is using SSL technology (you can read more about this beautiful thing down below).
Technical side of protection
Safety is the number one question when it comes to using dating websites online. In the Farmers dating site, you can be sure that it's safe to use it to find yourself some attractive cowgirl or country single. Why? Well, there are a few aspects of why it's safe to use this website. First of all, it uses SSL-protocol that makes every operation like logging in to the site or processing some payment secure because hackers can't steal your passwords or credit card information. The second thing why it's safe is because their apps are on Google Play Market and Apple's App Store. Both of these services have strict moderation rules and high requirements for every software developer that wants to post his app on these platforms. So, you shouldn't worry about your dating app for cowboys being vulnerable to viruses and spyware.
Customer Support

In case if you are having any technical problems or difficulties, you can call customer support. If you are using Premium, then you can access Customer support 24/7.
Popular user questions:
How to pass Farmers dating site photo verification?
First of all, your photo shouldn't include any nude objects. It must be your authentic photo. It would be best if the gallery would display some of your activities or hobbies so the person who would see photos could get a picture of who you are and what you like.
How to delete Farmers dating site account?
There are situations when you need to delete your profile from an online dating website. For example, you have found the love of your whole life. You don't want to be a member of the Farmers dating site anymore (though there is nothing terrible in communication with other fellow farmers since this website isn't just and only about dating). Another case will be if you are afraid that your boss or colleagues might find out that you are using dating websites (and then again – what's bad about using 21st-century technologies to find a person of the same spirit?). It's all harmful beliefs that limit modern people, but anyways you are the boss here, so if you decide to delete your account, you can do it by contacting customer support and sending them your request.
How to see who likes you on Farmers dating site without paying?
There would be some kind of hack or bypass, but there are not. Of course, if you Google maybe (!), you eventually will find some scripts to do that, but most likely, it will be some hacker programs that will track everything that you type or will show you some ads.
How to block someone on Farmers dating site?
If someone is bothering you or acting not very friendly or courteous on Farmers dating site (even among farmers there are rotten apples), you can easily block those people by using a "not interested." I guess the name of this feature speaks for itself; it is a blacklist. The only downside about this feature is that it is for premium members only, so eventually, you will have to get yourself some membership on.
How to cancel Farmers dating site subscription?
You can easily cancel your Farmers dating site membership by going to your setting and clicking a particular link called "Deactivate my subscription." In case if it doesn't work, you can always contact customer support that will be happy to give you help.
Conclusion
Dating platform Farmers dating is an excellent choice for those who are seeking love in rural areas. You will find yourself hundreds of cowboys and cowgirls willing to chat with you and discuss who got a bigger farm or a tractor or which cow gives the best milk. While a three-month subscription might look too much for you, it's always possible to stop your membership by deactivating your profile. Good luck, fellow farmers – you can find your perfect farmer buddy on Farmers dating site since it's one of the best niche dating websites out there.