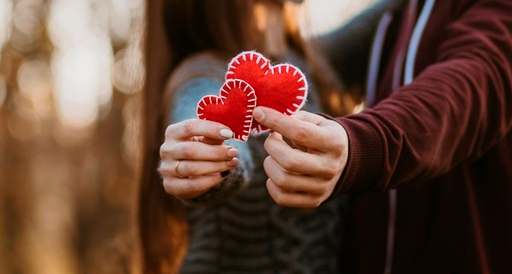 Bumble vs. OkCupid? Let us look through. When comparing to OkCupid, Bumble is a relatively new app that was founded in 2014. It was launched by Tinder's former co-founder, which is why it is often called Tinder's sister app. The swiping and matching mechanism is similar to the one that OkCupid has, but there is one significant feature that distinguishes Bumble on the market. The app is revolutionary not only because a woman has found it but also because only women can initiate a conversation.
OkCupid is a pretty straightforward app that allows users of any gender and with every sexual orientation to customize their profile, search for matches, send private messages, and boost up their profile.
Since 2014, Bumble has managed to gain popularity quite fast. It is popular among the LGBTQ community because women do enjoy dating other women on this platform.
Both dating services are suitable for casual dating and serious relationships as well. OkCupid is no less progressive than Bumble, as it is also specifically popular among younger audiences who look for fun and like to experiment. In the battle Bumble vs. OkCupid, the latter one may receive more points because of the higher number of subscribers and better advanced features. Let's read closer together and see.
What's the Difference Between Bumble and OkCupid?
The main features of the two apps are rather similar. Just like OkCupid, Bumble provides the same swiping and matching algorithm – a live action. Users choose whom they like and whom they do not. When both persons swipe right, which means that they both "liked" each other, a match between them is created, and they can start chatting.
Considering that those are primarily women who use Bumble, it doesn't mean that only ladies date there. Male and female audience is present on Bumble, and some men do like to endow women with more rights, even when it comes to initiating a conversation on a dating app. Bumble is available for free and has a paid version, and so is OkCupid; for a while, it was only free. Users can choose whether they want the basic free version, which still has tons of great features, or boost up their profile and customize their search with a paid version.
Comparing Bumble vs. OkCupid, the former was created with female awareness in mind, which puts women's safety on top. It is a women's harassment issue that raised a need to create a safe space for females. The principal privilege that women get when using Bumble is to decide whom they want to contact and whom not.
OkCupid
Bumble
Pros
Easy registration
Smooth design and user-friendly interface
Sleek matching mechanism
Tons of profile and search customization features
Hookups, romantic goals, or friendship are the main dating goals on OkCupid
The audience is relatively inclusive and LGBTQ-friendly

Women get a priority in messaging, and women's safety is much appreciated
People are looking for serious relationships
The service seems to be less crowded than OkCupid
The paid version has customer support for its users 
The paid version is very affordable. 
There are no fake profiles 
User privacy and protection are well ensured 


Cons
Paid features do not have that many perks in comparison with the free one
There are too many search filters that might seem to be in a disarray
Fake profiles do happen every once in a while
Some users may be abusive
Chat attachment features seem to work slow
User interface and graphic design are non-engaging
The number of matches per day is limited in the free version

Only women can initiate conversations that put men in a discriminating position
Matches are lost if a woman did not reply within 24 hours
Not that many profile customization features
It is not available worldwide, and only 20 countries have the benefit of using Bumble
The male to female ratio is not balanced 
The free version features are limited 
Bumble vs. OkCupid: Audience Comparison
The audience difference between the two services is rather drastic. Considering that Bumble is not available worldwide, its audience is initially limited, and it is less popular than OkCupid. OkCupid is available in the whole world. Hence it is very popular among many users. The average audience of OkCupid is constituted by younger people who look for fun and are not interested in anything serious. People on OkCupid are very easygoing and open-minded; they prefer real-life meetings over long online conversations. OkCupid is still very inclusive and LGBTQ-friendly. Merely any user here feels safe and welcome because the overall vibe is very supportive.
Comparing Bumble vs. OkCupid, we may underline that Bumble is less known in the world because its users are mostly women. There are men too, but in relation one to four when compared to the female audience of Bumble. Indeed, the community welcomes the inclusivity ideology. However, the feminist movement is more than apparent here. In other words, Bumble could be called a dating app for feminists, considering that its critical revolutionary feature is the prioritization of female rights. At the same time, the audience on Bumble seems to be more mature and committed when it comes to real-life dating. People are not ready for fast action here, and they would rather take it slow in order to explore the horizons first.
The two dating services' audience is very different. Still, there are people who, in fact, like to explore both sites to choose for themselves which one is better when referring to the rivalry between OkCupid vs. Bumble.
Who Has a Better App?
OkCupid has plenty of free features, which is why its app support is not as efficient as for Bumble. Bumble has a very dedicated audience base, and the support of its app is quite significant. Many Bumble features are available in the paid version only, which is why its application is constantly updated and supported.
The user interface is cluttered on OkCupid because it has many features that seem to be in disarray. On Bumble, it is much easier to navigate because the user interface is well-thought-out. In fact, in terms of user experience, Bumble seems to have intuitive navigation, where the user can figure out the basic features quite effortlessly. OkCupid seems to have too many features that are hard to find, and in certain cases, people think they are a little extra.
Both apps are available on Android and iOS devices, but users may also enjoy the web versions. The matching and swiping mechanism are similar in both applications, whereas the premium functionality is also quite alike.
Considering that the audience of Bumble is limited when it comes to gender and that it is only available in 20 countries, its app is regularly updated, and the security seems to be top-notch. However, when speaking about which will best suit men's needs, we may see that OkCupid will win here. OkCupid offers more freedom for men. At least, they can initiate messaging when they like someone here. Thus, in this Bumble vs. OkCupid battle, the latter scores additional points because males will be likely to choose this platform for dating purposes.
Bumble vs. OkCupid: Interface and Usability – Who's Better?
Both dating apps have many great features that make them so attractive to their users. Unfortunately, most of Bumble's tools are available only in paid versions. However, when it comes to the basic functionality, OkCupid seems to be winning because of the quantity of the available features.
When evaluating the two's interface and usability, there is a need to say that these features do not match with each other on OkCupid. The interface is quite basic yet complicated; there are too many tools that prevent users from enjoying their dating journey.
As for Bumble, the correlation here is more than perfect in the Bumble vs. OkCupid competition. Features seem like enough, and usability is on the highest level. Any user easily navigates through the app and can find all of the needed functionality within reach of a fingertip. People often turn to customer support, as the developers do consider the incoming requests from the audience.
At this point, we have to distinguish a sleek user interface and a user-friendly design of the Bumble app that corresponds with the features that it has to offer. All these make Bumble and OkCupid similar to each other because they provide user-friendly design and straightforward options. They care about the comfort of their subscribers and update their functionality. Thus, in this OkCupid vs. Bumble battle, we will not distinguish a winner. Both services are equally cool.
Bumble or OkCupid: Pricing
These apps offer a premium plan for their users – one, two, three, four, six, and eight months.
Bumble is slightly more expensive than OkCupid, but the tools are worth it. OkCupid provides a basic boost-up of a user profile and search customization when it comes to the paid membership. Bumble seems to be offering a bit more at a little higher price.
OkCupid
Bumble
One month – $19.95 per month
Three months – $14.95 per month
Six months – $9.95 per month

Two months – $24.35 per month
Four months – $12.75 per month
Eight months – $10.18 per month

Among the extended features that Bumble has to offer, there is an option Bizz and BFF, which allow putting a special mark on a user's account when partners get a match. These marks give people a special status when chatting, and it also opens many more specific tools in the chat itself. The paid version also offers profile and search customization options. Among the most favorite features is the possibility to extend the 24 hours limit of an expiring message and re-match during the same deadline. Women are also able to see the list of males who have already liked them.
Additionally, there is an option of super-swipe, which allows everyone to express a special affection towards other people.
What Is the Right Choice – Bumble or OkCupid?
Bumble vs. OkCupid? Finally, we are ready to answer the question. Both services are excellent for casual dating and finding romantic relationships. However, the audiences and their goals differ. On OkCupid, people are ready for quick fun and as many real-life dates as possible. As for Bumble, the audience is more mature, dedicated, and into romantic feelings.
There is a crucial difference between the two, as Bumble has been initiated with a feminist ideology in mind – only women can decide whom they want to chat with. With this, there are certainly more ladies on this dating app. OkCupid is very LGBTQ-friendly and inclusive, and users here can put in their dating goals, be that friendship, romance, or hookups.
Bumble is not available worldwide, and only citizens in 20 countries can take advantage of its services. Both apps have a sleek design and user interface. There is constant customer support for the two, and developers make sure to provide software updates regularly. Making a concluding statement would be relevant to say that users have to try out both applications to make sure for themselves what is better, OkCupid or Bumble. But we suppose that OkCupid narrowly wins this Bumble vs. OkCupid battle.