When appearing on Fling.com, you probably know what to expect from the website. This dating application doesn't associate with searching for real love, romantic meetings, and building serious long-term attachments. It shows the other side of love affairs. The clients can find sexy partners for casual sex dating.
Millions of people come here in search of unusual sex experience and hope to find someone risky as well. The platform opens a wide variety of opportunities to have an adrenaline rush. This digital resource is a full-featured service that helps singles and couples, straight and others find lovely partners in-person or get cyber sex-dating experience.
Reputation and history of Fling

Fling is quite popular among the fans of non-binding seductive conversations. Clients are in a search for physical and emotional affairs without expectations of building serious attachments. Here, it's easy to find casual dating or just have seductive conversations with a friendly stranger from any country you like. It has gathered members from all over the world and today counts more than 3.6 million visitors.
The website has functioned since 2006. The founder is famous for creating several hookup sites. This online dating service is top-rated and has some loyal audience. Fling got some nominations as one of the best digital platforms in the different categories.
Website, App, interface, registration

Having a brief look, it might seem that the interface is too simple or overloaded. There is a running line on the welcoming page with photos of users. Right under this ticker, you may see a search bar to fix some filters. Online people are shown on the left side of this page, and the information in your account is on the right.
Here on the main page, you may find:
Suggestions to upgrade the account;
Actual benefits and actual prices;
Streaming ladies and men;
Photos of users visiting your page.
Besides, you can see links to Instagram, Facebook, Twitter.
Sign Up Process. Is it easy here?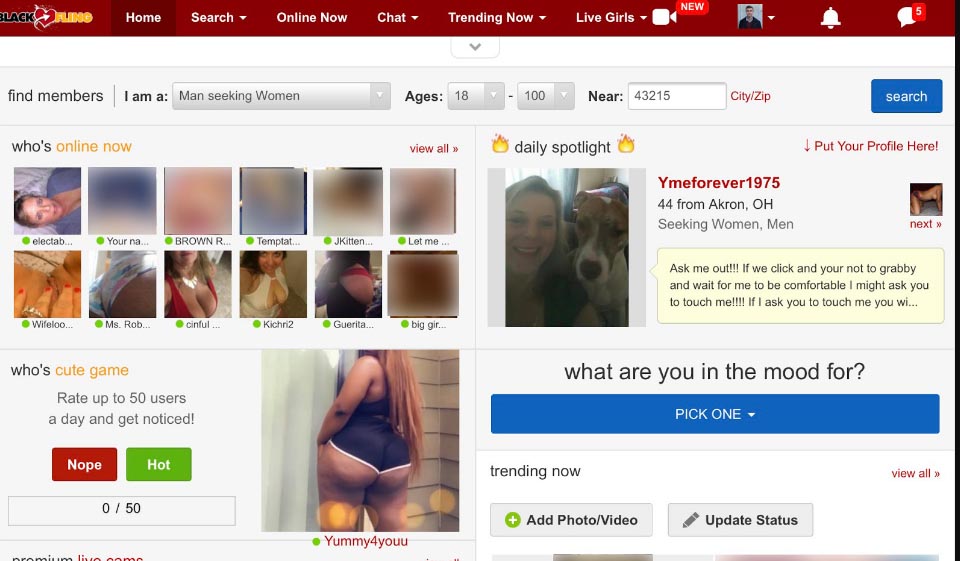 The opening page contains very little information about the digital service. So, if you just want to try some options, registration is necessary. But luckily, it's free of charge and quite comfortable, though it may take some time. A new client has to fill regular fields like gender, age, and email, then create a username and upload the photo. The service asks for some information about the country you live, age, and sexual preferences.
Then it's necessary to choose the age limits of the possible partners. To finish registration, a user has to verify the email address. That's why enter only a valid one. After that, a newcomer may begin sexual adventures. To find matches better recommends filling more fields about goals and sex interests on the personal page.
Are the accounts real here?
By registering here, you enter the most extensive digital community. Its membership consists of people from the US, Canada, Europe, and Russia. Here you can find users of all ages, any gender, and various sex preferences. Fling is very inclusive. You won't face discrimination here on any concerns: race or sexual orientation. Even if you are up to something specific, you are likely to find it on the website. But in this case, users usually have fake profiles. So, you can never be sure who is on the opposite side of the monitor. Sometimes it complicates the search for partners.
To find the ideal match, you should use the advanced search, where you can specify lots of details like age, appearance till professions, and the level of income. And keep in mind, there are more male profiles than female ones.
Website and mobile version
Fling.com keeps pace with the times and gives its clients the possibility to open the site from every digital device. It's not a full mobile application, but an adapted version for the mobile browser platform. It is convenient and faster. So, you can flirt anywhere you feel comfortable. It's available on iOS and Android.
The mobile version seems more organized and representative. There, you can see who is online, use search filters, view photos, and enter video chats, even if you are on the go. It's very convenient to scroll the screen and choose the one who you want to write to. But don't forget to make it mute in public places to avoid confusing situations.
Special Features
Fling.com gives lots of chances to socialize with sexy ladies and men of different sizes and shades. The digital resource provides its clients with the opportunity to text, chat, and have video calls. It reminds ordinary dating sites where you have to download your photos, fill out the fields that provide all the necessary information to show who you are and what exactly you are up to with a potential partner. But here users might find some exclusive options like:
Three-month guarantee. The website guarantees that the clients can find a hookup within three months. Otherwise, if you haven't met your ideal partner by the end of this period, Fling.com opens access to all paying options for three months for free.
"Who's Cute?" Paying users to give each other ratings: who is cute and who is not. The ones who use this function regularly get upgrades of their profiles.
Cam chats. Many girls are willing to show themselves and make their sexual desires real.
Live video calls. Users can use their webcams to see each other and talk face to face. Video chatting takes communication on another level.
Partner search

Fling was created for non-binding relationships and sex sites experiments in a safe atmosphere. Currently, this online service has gained the trust of millions of people. Every midday, there are more than 1500 active members from New York, Europe, Russia, Australia, and other countries. Fling is in TOP hookup services nowadays.
How does Fling work?
Fling.com has quite a simple scheme of looking for partners. After registration, uploading a photo, and answering basic questions, each user views a gallery with potential partners. Selecting the ones you like will improve your search for an ideal match. The ones whose page was chosen receive notifications. So, be ready to talk with them.
But only paying members can look through other full pages, send direct messages and answer them. The rest have a right only to view pictures, a username, and a received message. Paying members can use all Fling functionality.
Searching options and filters at Fling

There are standard and advanced search filters. After the registration with simple fields, a visitor can complete the questionnaire with other details and preferences.
A person might set up various filters like:
Sexual orientation and preferences;
Religion;
Appearance features (hair, body type, height, race, &, etc.);
Income level;
Variety of interests;
Location;
Occupation;
Marital status;
Language;
Online status, and so on.
The system gives a variety of potential partners with their pics. Such specified filtering helps find potential partners in a few minutes. This option is useful and time-saving.
Communication methods
The possibility of socializing is the first reason why people appear on Fling.com. It is essential for everybody. It's essential to find a person who can share your interests and some secret desires and can meet in person for further relationships.
Paying members can contact each other in the following ways:
sending private messages to the hot members, you like;
winking or sending a message and waiting for an answer;
video webcam calls. It's quite comfortable to chat without typing;
taking part in group chats.
Fling Alternatives
Since not all countries are accessible on Fling.com, but the site wants its clients to feel comfortable and doesn't leave without solving a problem. So, users in an unsupported location are redirected to Web.Date.com. This service is included in the same group of hookup sites.
There are other non-string dating sites like:
FriendFinder-X
iHookUp
Ashley Madison
X Match
Passion
Adult Friend Finder and others
They all have some losses and gains. Usually, people choose the dating service according to visual preferences, the convenience of usage, and several special features. Fling.com hasn't lost its popularity for more than a decade because of its inclusivity.
Here you can find an enormous user base from many countries and parts of the world. There is a vast number of visitors of all types to talk to or to feel out. On Fling, there is no need to pretend or try to cheat on anyone. If you're looking for some specific preferences, this is the place where you can meet them.
The side introduces different goals, like:
Wishing sexual experiments
Friends with benefits
Dating in reality
Online chatting
Triple+
Membership Price and Payment Method

A paid membership opens more interesting features. Fling differs from other dating services, offering a couple of days trial. It helps understand whether you are interested in the membership or not.
Free Membership Features
Non-paying visitors have no access to the whole functionality of the digital platform. But newcomers can get more familiar with this service. On free usage, both standard and advanced filters are accessible, although the range of services that are free of charge is limited.
Non-paying visitors have a right to:
sing up all the subscriptions of the site;
open and fill out the personal account;
get the incoming messages without the opportunity to read them out;
take part in "Who's Cute?" marathon;
chat in common groups;
see nicknames and profile photos of users who visited and liked the page.
Premium Membership Features
Premium membership gives users a wide range of features. Reasons to pay the membership are the following:
sending and receiving private messages, photos;
viewing the whole users' profiles;
looking through photos closer and in details, nude pictures of private parts of users' profiles;
chatting online using a webcam;
buying toys in the sex shop;
giving "likes" and having an upgrade for the profile;
having access to cam chats with nice girls.
Paying members on the Fling website have an impressive variety of special options. Here are they:
Video chats. No wonder this feature is one of the most popular on this platform. Texting can hardly give real and exciting emotions while talking to a partner. Firstly, you can see a real person and know for sure who he or she is, whether you like him or her or not. Secondly, you are sure that your partner has a real interest in you and isn't busy with something else.
Streaming with sexy girls. Here, there are plenty of gorgeous ladies who would like to chat, show themselves, and make all your sexual desires true. Both of you will have lots of fun.
Shop with toys for adults. Buying products of the local sex-shop can diversify your real sexual life. Fling.com has many partners. Thus, you can buy some things with a good discount.
Start your own business. Upload your nice and seductive pictures, playful videos, and sell them on the platform. There is a chance to create great content.
How much is dating on Fling?
This digital service provides two types of presence on the digital dating service: Free and Premium. But a visitor can choose a duration of Premium tariff. If you are not sure, whether you like Fling or not, they offer a short trial for several days:
$0.95 for 2-day membership;
$9.95 for a week membership.
Speaking about long-term tariffs, are three kinds of membership:
| Duration | Cost per Month | Total |
| --- | --- | --- |
| Monthly membership | $34.95 | $34.95 |
| A 6-month offer | $11.65 | $69.95 |
| A year pricing plan | $9.90 | $118.80 |
What tariffs to choose depends on the goals and features that you are going to use. If you are eager to chat with nice girls or men from time to time, while feeling bored or having some free time, a two-day or a week membership seems the most optimum variant. For regular users of dating sites, membership for several months or even a whole year is a good option.
Is Fling Really Safe?
Coming to Fling, people usually worry about scams, spam, and fraud. The service tries to provide as much security as possible. But they warn you not to share personal credentials with people who don't know in person.
Technical Side of Protection

Fling.com is secure as any other dating website. Otherwise, they will lose their clients. The site guarantees a high level of security. Neither your private pictures nor private messages have a chance to fall into the wrong hands. There is additional security built into the site system (Norton) that protects users in every click.
However, visitors should keep an eye on the people they communicate to avoid facing scams and confusing situations. There are cybercriminals and other elements that are looking out for new victims. The security service of the site warns not to reveal personal information, at least, unless you feel comfortable with the person. They recommend having the first date in a public place not to lend money or tell anyone your payment card identifications. All the verified users have a blue badge on the profile. It indicates a real person on the page. So, you can easily understand whether this account is fake or not. And there is no need to look through all the information since the blue badge works as the main proof.
Customer Support
Fling provides support for clients constantly monitoring the platform 24 hours per day/7 days a week and extracting fake pages. Visitors can report about unacceptable behavior relating to themselves or other people to special support service by email.
Popular user questions:
Although features are intuitively clear, still some questions appear while searching on the website. Here are the most frequently asked questions.
How to pass Fling photo verification?
This is one of the security measures on the platform. It helps make a friendly and safe environment on the site. Photos should be clear and well-distinguishable. At the same time, they shouldn't contain other people or kids. To pass verification, a user should capture him or herself using a webcam. It will be compared to the uploaded pictures. Another way of verification is to upload a scanned copy of ID.
How to delete Fling account?
A user can delete the account temporary or permanent by following the instructions in the Account Settings. In the Profile Settings, there is a tab where a user should click on the option Make my Profile Inactive. Thus, you will no longer be online on the platform, and no one will write you a message.
How to see who likes you on Fling without paying?

The feature of viewing who likes you on Fling.com is free and included in the basic tariff.
How to block someone on Fling?
If you feel uncomfortable with somebody on Fling.com, there is an option to block this person in the Profile Settings of your Account. Report about unacceptable behavior to the customer support service.
How to cancel Fling subscription?
Even after removing the account from Fling.com, you might still have some subscriptions. To complete the cancellation process, write to the customer service department. You will get a link to Fling payment partner Instahelp 247, that will remove all your subscriptions.
The other way is to wait until the period of your subscription outflows.
Conclusion
Fling.com is an online service created for adults who are up to sex adventures and non-binding, seductive communications. Millions of people are interested in this service. Here, everyone may find something interesting. But remember, despite all the safety measures, this hookup site isn't a safe place. Don't forget about the caring attitude towards people you chat online. Start your seductive adventure on Fling.com!