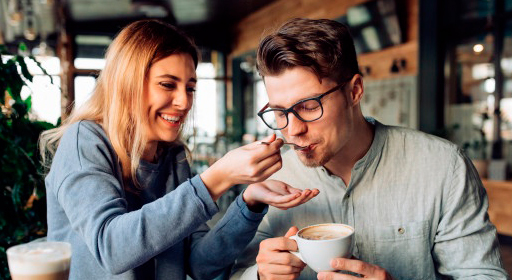 These days, many people are wondering whether they should try an online dating service, especially when it comes to eHarmony vs OkCupid. You may even know a few individuals who have something to say about their online dating experience. There are thousands of dating platforms, but it is always better to opt for the most reputable one. In this review, you will find the comparison of two popular dating websites – eHarmony and OkCupid.
eHarmony is an online dating service launched in 2000 that caters to people who want a serious and meaningful relationship and not just casual dating. That is why it uses automatic matching to pick suitable partners based on your personality.
OkCupid appeared in 2003 and has become one of the most popular dating platforms since then. Hence, it has more than one hundred million visits every month, so every user has a high chance to find what they are looking for.
Keep on reading this review to figure out which online dating service is better – eHarmony or OkCupid.
What's the Difference Between eHarmony and OkCupid?
A great online dating service should have a few unique features to help you reach your goal. In addition to that, they should be helpful, convenient, functional, and fun. So, let`s see what kind of features eHarmony and OkCupid can offer.
The features you will be able to access on the eHarmony dating website are dependent on what kind of account you have. The reason is that free users can use a few functions, while premium subscribers+ can utilize all of them. Being a standard consumer, you will be able to access basic features:
You can get registered and create a profile;
You can send winks to others;
You can view other users` profiles;
You can add members to your favorites list;
You can search for potential partners.
Apart from that, eHarmony offers a few special perks that are not new but crucial for communication. Here they are:
Send a smile. When you view your match list, you will see a tiny smiley icon under every profile picture. You can send a smile to a user by clicking on it. This can be a nice way to start interacting with someone you like.
Send questions. The online service allows its members to send auto questions. This feature is free, and users are not limited as to the number of questions they can send and get a day.
What if? Thanks to this paid feature, you can get 30 additional matches that do not fit your preferences list. It implies that you receive extra matches, so you have more chances to meet someone.
Video date. Using this feature, you can meet someone you like on eHarmony via video. It can save a lot of time because you do not even have to leave your home to get to know your match.
Just like eHarmony, OkCupid also has free and fee-based features. Standard members can access the following functions:
They can get registered;
They can send messages to other members;
They can search for matches with the help of basic filters;
They are allowed to keep track of who they like;
They can view profiles;
They can take part in Double Take.
In addition to that, OkCupid has several special perks:
Double Take. It is nothing but a roulette-type matching where users should swipe left or right to show whether they like or do not like suggestions.
See Who You Like. Thanks to this special feature, OkCupid members can keep track of users they like. It is possible to send messages to such people, and they will see these messages on Double Take.
Boost. It is an add-on feature where profiles can get highlighted. If your profile is boosted, it will be shown more often.
OkCupid Blog. There is a blog that publishes tips on how to maximize chances. You can also find articles on useful dating tips and advice, which should help members get their ideal partner faster.
Stacks. OkCupid is a big online dating service; consequently, you might be overwhelmed with the number of matches you receive. Thanks to this feature, you can categorize them. For example, it can be groups named "Online," "Nearby," "Question Pros," and "Recommended."
In this OkCupid vs eHarmony battle, the first dating website wins because it has more interesting features. Besides, users of this dating platform can access more tools without paying for a premium plan.
Pros and Cons
In the table below, you can find the comparison of the two dating websites in terms of their advantages and disadvantages. This information should help you decide whether you need to choose eHarmony or OkCupid.
eHarmony
OkCupid
Pros:
1. There is an effortless matching system.
2. It has robust privacy and security features.
3. eHarmony has a customer satisfaction guarantee.
4. Users get matches every day.
5. The algorithm picks matches specific to every member.
Pros:
1. You can join it free of charge.
2. There is an in-depth questionnaire.
3. Standard members can view profiles.
4. They do not need to pay to send messages.
5. Every new user receives tips and hints after signing up.
Cons:
1. The registration process is lengthy.
2. Search tools are limited.
3. Not suitable for lesbian and gay relationships.
4. Premium plans are expensive.
Cons:
1. It is allowed to send messages if there is a mutual match.
2. There are a few fake profiles.
3. Premium plans renew automatically.
4. Members in low-populated areas may not be able to find an ideal partner.
eHarmony vs OkCupid: Audience Comparison
You will not get what you want from a service that does not cater to people you most probably like. Hence, it is crucial to figure out what kind of audience eHarmony or OkCupid is focused on before you get registered. OkCupid, for example, has more than 30 million members, but only around 10 million are active, while eHarmony obtains approximately 16 million registered profiles, and all of them are active.
On eHarmony, the ratio of females and males is almost equal, so it is suitable for both genders. Approximately 30% of users are aged between 18 and 24. However, the age ranges of 24-34, 35-44, and 45-54 make up 20% of the audience. The members of the eHarmony community come from the United States and 150 other countries. Therefore, you can meet African-American, Asian, Hispanic, and Latino people. Another good news is that the users are mostly well-educated people because 40% of them have a high school degree, while 45% obtain a bachelor`s degree.
OkCupid caters to people who are looking for serious relationships, which means that if you want a hookup or casual dating, this dating service is not for you. The number of female and male users is not equal, as they make up 35% and 65%, respectively. It means that this platform may be more beneficial for men. Most users fall between the age range of 25-34.
The fact that makes OkCupid stand out is that it is perfect for LGBTQ; consequently, everyone can meet someone special here, no matter what their sexual orientation is.
Users of this dating website come from different countries, including Canada, the United States, Asia, the Middle East, Africa, Europe, South and Central America. These people can have any type of sexual orientations and gender identifiers, so the probable variants are:
Non-binary;
Genderfluid;
Pangender;
Transsexual;
Androgynous;
Asexual;
Homosexual;
Sapiosexual;
Questioning;
Queer.
To sum it up, it is hard to say which is better, eHarmony or OkCupid, because in this case, it depends on your preferences.
Who Has a Better App?
Both the online services offer mobile apps, so members can download them for free from the App Store and Play Store. This is good news, indeed, because people have more chances to find what they are looking for if they are able to communicate with their potential partners on the go. However, it is important to look at them closer in this eHarmony vs OkCupid part to decide which one is more advantageous.
When it comes to the eHarmony application design, it is similar to the website – clean and easy to use, and it does not contain a lot of ads. In addition to that, all the features introduced in the desktop version are also available in the application.
The OkCupid app does not offer any extra features, but it does improve user experience significantly. The reason is that all features are well-organized in tabs. At the same time, you may have to wait a bit longer when loading some pages.
Overall, OkCupid mobile app is better because it is more convenient when it comes to mobile device use.
eHarmony vs OkCupid: Interface and Usability – Who's Better?
You may wonder which is easier to use – eHarmony or OkCupid, but the truth is that both of them are extremely user-friendly. eHarmony has a wonderful website design and layout. The online service spends a lot of money to maintain a good-looking and smooth functioning desktop version and mobile application.
OkCupid is not as catchy as its competitor, but it is not the worst-looking dating platform on the market. However, it can be difficult to find the necessary features at first, so it can seem too complicated for not-so-tech-savvy people. Thus, eHarmony wins this battle.
eHarmony or OkCupid: Pricing
As mentioned above, both online dating services offer premium subscriptions to their users. If they upgrade their accounts, they can access more tools that can help them find an ideal partner quickly. The table below will help you understand which platform provides its members with better premium options, eHarmony or OkCupid.
eHarmony
OkCupid
Membership prices
A-list Basic
59.90 USD/ 6 months
7.95 USD/ month
35.90 USD/ 12 months
19.05 USD/ 3 months
25.90 USD/ 24 months
23.70 USD/ 6 months
A-list Premium
24.90 USD/ month
68.70 USD/ 3 months
119.40 USD/ 6 months
Boost
1.99 USD/ credit
9.45 USD/ 5 credits
16.90 USD/ 10 credits
Fee-based features
Premium members can view photos
They can see who added them to favorite lists
Premium users are allowed to see who viewed their profiles
They can access unlimited messaging
They can browse through the userbase anonymously
They can receive matches outside their preferences
Premium users can see who likes them
They can benefit from message read receipts
They can use the service without any ads
They can access advanced search filters
They can use the daily auto Boost
They can see public question answers
OkCupid is a cheaper option, and it provides its users with more premium subscription plans. That is why it may be better.
What Is the Right Choice – eHarmony or OkCupid?
eHarmony
GOOD FOR
those who are in search of a perfect match
Both OkCupid and eHarmony are wonderful online dating services, but the latter one stands out because it provides its members with excellent value for costs. The thing is that there are many useful aspects and features on this dating website, including the best matching algorithm on the market.
OkCupid allows its users to access more perks free of charge, which is enough to keep them active. Meanwhile, there are a few additional functions that come with a premium subscription plan. Hence, the main difference between these two online services is that eHarmony is more suitable for straight singles, while OkCupid is great for people with any sexual orientation.
eHarmony allows its customers to have the best opportunity of getting acquainted with the right person to build a long-term relationship. Consequently, it is perfect when it comes to quality, but if you are not straight, you should better opt for OkCupid.
To sum it up, eHarmony wins in this eHarmony vs OkCupid battle, but you should remember that your sexual orientation is the main thing to be considered when choosing either of them.