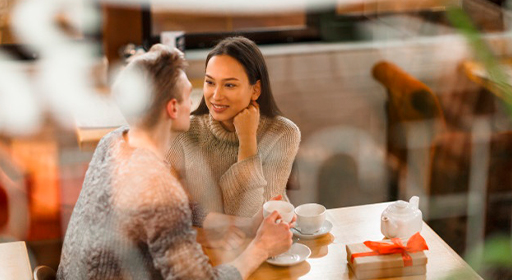 It is crucial to choose the best online dating service possible if you want to get acquainted with the right person. At first sight, you may think that they are similar, but there are still a lot of differences that can have a great impact on the outcome. Zoosk and Match dating platforms are no exception here.
Zoosk and Match are among the leading websites; consequently, nothing is surprising if you would like to try them both. At the same time, having accounts on two different platforms is never efficient compared to focusing on one. Besides, you will save a lot of time and money if you opt for one website, so it is always wise to choose the best option possible.
If you cannot decide which site to go for, you should read this comparison of Zoosk and Match in terms of functionality and offered features.
What's the Difference Between Zoosk and Match?
Features are one of the biggest things to consider when it comes to choosing an online dating service. The mentioned websites both have a few typical interaction features, such as the ability to "like" profiles, an instant messaging system, and fully customizable profile options. Below, you will find a more detailed description of the tools that Zoosk and Match present.
Zoosk has several unique features that are new to the market, therefore, quite innovative. Overall, they are less basic compared to Match, so it is fun to explore them:
You are able to connect with singles who are not far from you thanks to the "singles carousel," and it allows you to flip through potential partners accepting or rejecting them;
You can earn coins that can be used for profile boosts. For this purpose, you need to win in-app contests or refer it to friends;
There is the "maybe" option that you can utilize to save potential matches for later, and the online service will offer them again;
You are free to send "winks" instead of "likes," which will take flirtation to the next level;
Zoosk has an intelligent algorithm that tracks favorite profiles and matches to make up a "SmartPick" option by choosing potential partners you will most probably like based on users you usually like.
The Match dating website also comprises a few fascinating features to improve its members` online dating experience:
The dating platform offers a classic grid-style roulette, thanks to which you can view a lot of other users at once;
The online service will send five ideal matches to your inbox every day, and they will be based on your choices and preferences;
There is a brand-new feature named MatchPhone, which helps members stay safe. It is nothing but a fake phone number you can give your potential partners, and it will store and send incoming messages to the real number. Thanks to this, your identity will be protected;
Match holds a few events, so you can find them on the main page of the website;
It is possible to buy "power-ups" for a profile to get wide exposure online.
In this Match vs Zoosk battle, Match is the winner. Even though Zoosk offers interesting features and concepts, they are more focused on making it fun rather than practical. On the contrary, Match has done its best to provide its members with everything to keep them safe, which is beneficial.
Pros and Cons
Both Zoosk and Match have advantages and disadvantages, and you will learn more about them in this part of the review.
| Zoosk Pros | Match Pros |
| --- | --- |
| The signup process is super-fast, so new members can start searching for potential partners in a few minutes. | Match allows sharing user profiles on sister websites, such as Tinder, POF, OkCupid, Our Time, Hinge, and more. |
| Zoosk uses users' bio, preferences, and likes from Facebook and Google to apply the information to the algorithm. | Members get their matches via email every day, while no login is required. |
| It offers SmartPick and Carousel features with yes, no, and maybe variants. | There are a few messaging options like the safe call and text feature. |
| Members can make their accounts credible with a blue checkmark with the help of two-step verification. | Match offers a six-month guarantee, which means that every member can get a free six-month subscription if someone special is not found. |
| Zoosk Cons | Match Cons |
| There are many spammy and inactive accounts, as well as limited options for messaging. | The registration process is lengthy, so new users have to spend around 15-30 minutes providing the required information. |
| According to Privacy Policy, Zoosk can sell members' personal details, so they get spam. | Members have to turn off auto-renewal manually, or they will be charged. |
Match vs Zoosk: Audience Comparison
It is always difficult to figure out how reliable the demographics are, let it be Match or Zoosk. The reason is that there many factors to pay attention to depending on profile activity. According to Match, the audience is quite impressive, so it is necessary to compare it with Zoosk.
Zoosk states that there are 35 million users, but it is not easy to understand how many of those are premium subscribers. However, the average numbers are:
The prevalent age range is 24-27;
52% female, 48% male;
It is available in 80 countries around the world and supports 25 different languages;
There is a wide range of lifestyles and ethnicities on the dating website.
Even though Zoosk caters to younger people, you can still find users in their 20s up to their 90s.
Match claims to obtain 30 million registered profiles, and more than eight million of them are active premium accounts. The rest of the numbers are the following:
The average age range is 30-49, and these people make up 36% of the audience;
51% female, 49% male;
There are users from 25 countries, and it is available in 8 languages;
It has a massive variety in terms of ethnicity and lifestyles.
Match is the winner in this Zoosk vs Match battle as well. The thing is that there is more diversity of users` backgrounds and ages. Besides, the online service has existed longer, so numbers appear to be a bit more impressive.
Who Has a Better App?
Users can download and install the Match mobile dating app for free from the App Store and Play Store. The application requires a small amount of space and offers all the features available on the website. It is still more convenient to utilize the app because of its usability and easier navigation, which improves user experience significantly. Members usually prefer the mobile MatchPhone app over the site. Moreover, customers can communicate with their potential partners on the go from wherever they are.
The interface of the Match application is straightforward and clean, while every contacting feature can be found through the icon tabs at the bottom. In addition to that, user profiles feature action buttons for more convenient use.
Zoosk's mobile application is also available in the App Store and Play Store free of charge. It allows members to interact with each other on the go, which can make their search more successful. It also includes all the features, except for one – the Dating Insights. The reason is that it shows a lot of tools, so they don't fit the screen. Furthermore, even if it did, it would not be easy to read.
All the icons are also located at the bottom of the screen, which implies that users will find them easily. The design of the Zoosk mobile application is also simple, while the main colors are gray and blue. The only drawback is the ads that tend to disrupt the user experience. Members can get rid of them, though, if they purchase a premium subscription.
When trying to figure out which mobile dating app is better, Zoosk or Match, Match wins this round. There are at least two reasons for that. Firstly, the application contains every feature offered on the website. Secondly, there are no ads even for free members.
Zoosk vs Match: Interface and Usability – Who's Better?
Although the design of the Match dating website may seem to be a bit outdated, it is easy to understand and navigate. Members have a lot of pages to explore, while user profiles are full of information. It might seem to be a bit overwhelming at first, but customers tend to figure things out quickly.
When it comes to Zoosk, it offers a simple and effortless dating site. In addition to that, there are no large text chunks, and it is well-organized. Thanks to this, users can easily navigate it, but the profiles are not as detailed as on Match.
Overall, Zoosk is better when it comes to interface and usability because of its modern visuals and streamlined user profile design. Match has some work to do in this category. Even though it is usable, the website is not convenient for modern users. At the same time, most customers on Match are 30 and above dating site, so it might not be a big issue.
Zoosk or Match: Pricing
Pricing is another important thing to consider when deciding which one to choose – Zoosk or Match. Both services allow their standard members to access a few features, but they need to pay for a better experience. In the table below, you can find their prices, as well as features available to premium subscribers.
Zoosk
Match
29.99 USD/month
44.97 USD/ 3 months
59.99 USD/ 3 months
68.94 USD/ 6 months
74.99 USD/ 6 months
107.88 USD/ 12 months
Fee-based services
Premium members can send messages to others
They get full access to SmartPicks
Browse in incognito mode
Chat feature
See who likes them
Premium users can send messages to others
They can use Instant Messenger
See who has viewed them
They get an email "read" notification
MatchPhone
Grab a spot in daily matches
Browse invisibly
As you can see in the provided table, Zoosk is cheaper, which means that it can be ideal for people who are not willing to pay a lot for a premium subscription plan. At the same time, Match offers more features that can improve your online dating experience. It implies that using this dating platform, you have more chances to find your ideal partner and enjoy the process.
What Is the Right Choice – Zoosk or Match?
Zoosk and Match seem to be very similar at first sight, but they have different approaches to online dating. They are fun to use because of their additional perks; however, you should consider your needs and desires to decide which one is more suitable.
Match is the winner for the younger generation, as the developers have done their best to include all the stuff important to them. This dating website is a little bit more expensive and time-consuming, but it is worth it because the outcome is quite satisfying. Moreover, there are numerous positive reviews on the internet.
Zoosk is a good option for those who want something less expensive, faster, and easier to understand. Zoosk has fewer whistles and bells, but these two online dating services are even when it comes to activity and matches. That is why it is up for you to decide which platform can provide you with what you want – Zoosk or Match.